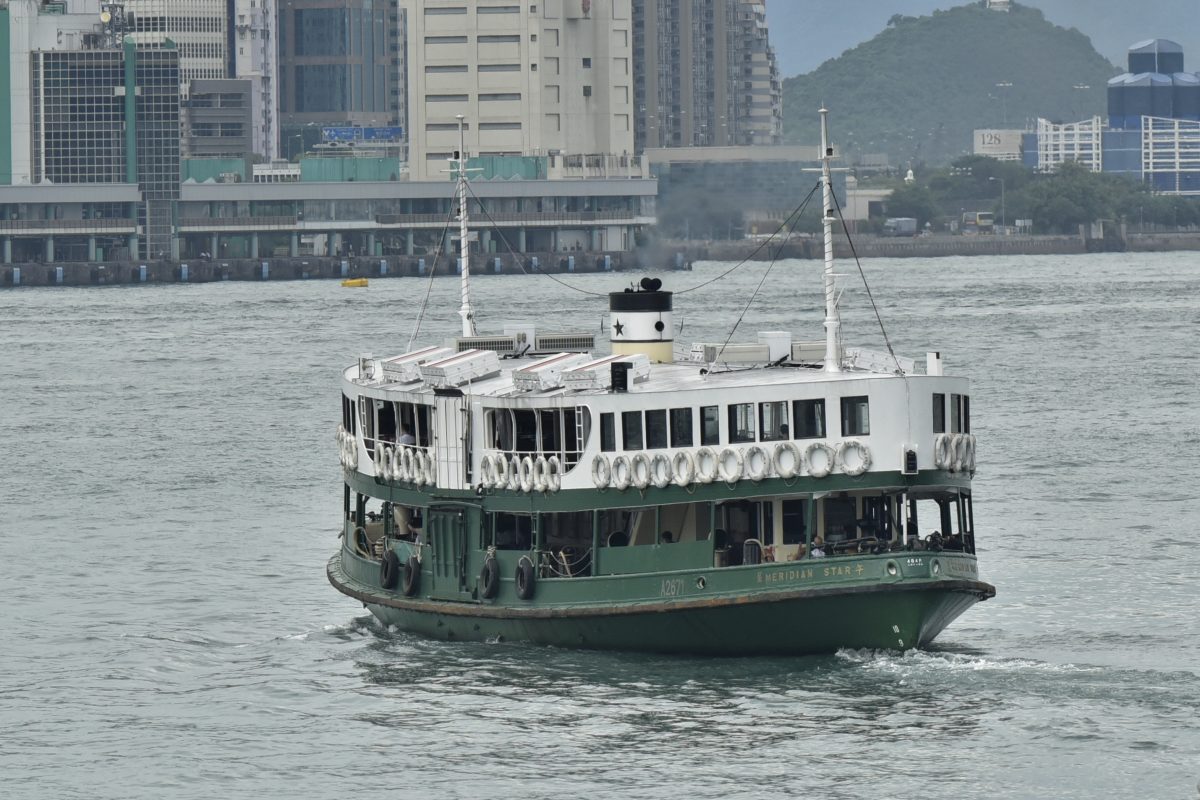 (Source: HKCNA) Star Ferry's stayed true to its original design for some 70 or 80 years
Do you know Star Ferry is actually the oldest means of transport in Hong Kong? 
The ferry has been around us for more than a century. It is the first scheduled public ferry service since 1880 to connect Hong Kong Island to Kowloon Peninsula. Before the ferry came into the scene, the only means for people to get across the Victoria Harbour (i.e., the water between Hong Kong Island and Kowloon) was through old row boats, or sampans.  
So much about Star Ferry that has reminded us about Hong Kong tale. Let's get on board.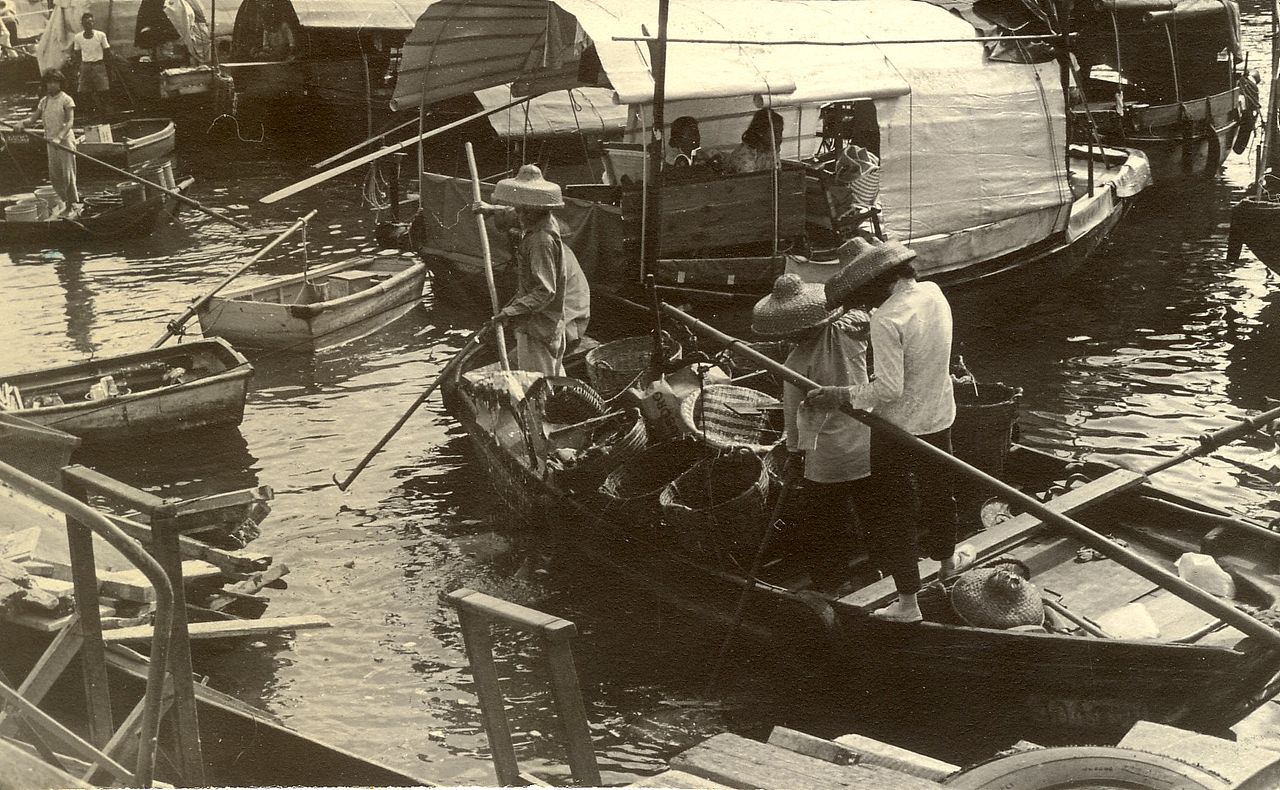 (Source: Wikimedia) Sampans in Hong Kong circa 1965
This all begins with a Parsee immigrant, named, Dorabjee Naorojee Mithaiwala, who needed to transport his own bread. At first, he hired a steamboat just to get his own goods across the water between Kowloon and Central. Pretty soon, he discovered a lucrative business to transport passengers. The Kowloon Ferry Company was thus founded in 1888.
Naorojee named his first four vessels Morning Star, Evening Star, Rising Star and Guiding Star. Every vessel has "Star" in its name. In the following decade, Sir Catchick Paul Charter bought all the boats and in May 1898, he founded Star Ferry Company, the same name we know it today. The company now has 9 ferries, running two franchised ferry routes between Tsim Sha Tsui and Central, and between Tsim Sha Tsui and Wanchai.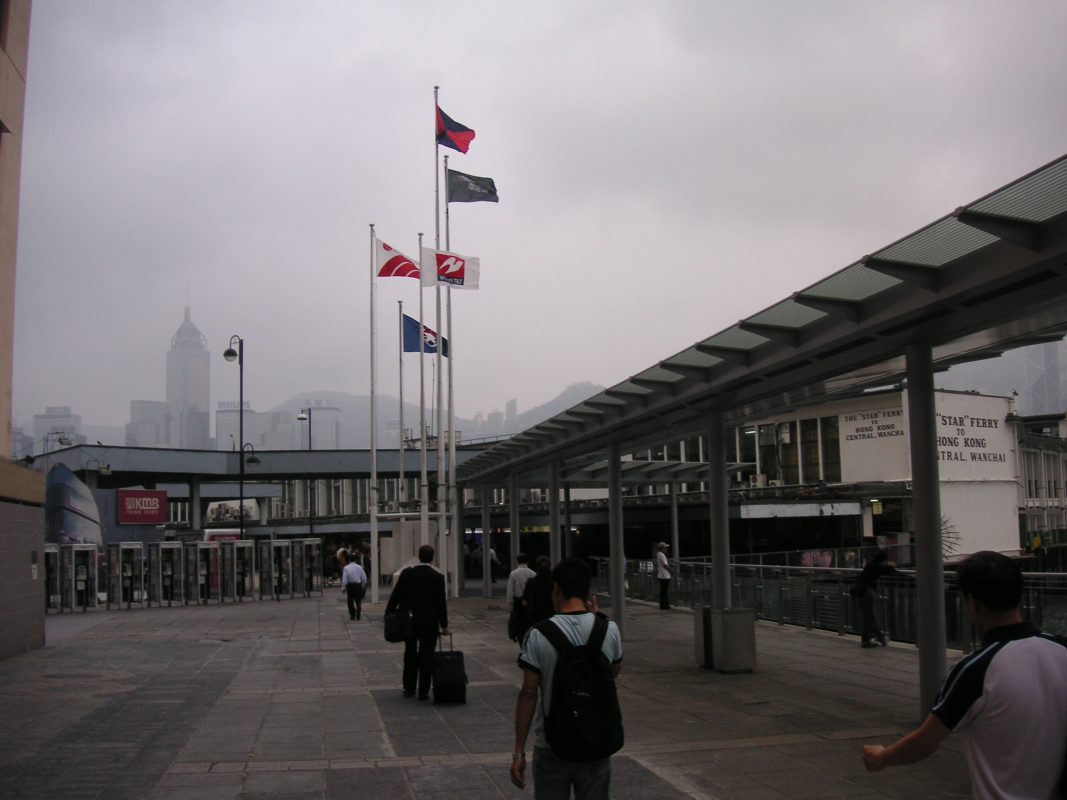 (Source: Wikimedia) Star Ferry Terminal, at Tsim Sha Tsui (TST)
Residents have grown so dependent on it since its inception, and enjoyed the ferry as a "slow" but very "pleasing" hang-out across the harbour. Consequently, in 1966, a government-approved fare increase had led to days of unrest.
As the city continues to flourish, so do other means of transports. In 1972, a cross harbour tunnel was built, which definitely offers much faster trips, the ferry then relies more on foreign visitors. In the eyes of commuters and touring passengers with cameras around their necks, the ferry still remains as a cheap and enjoyable tour across the Victoria Harbour.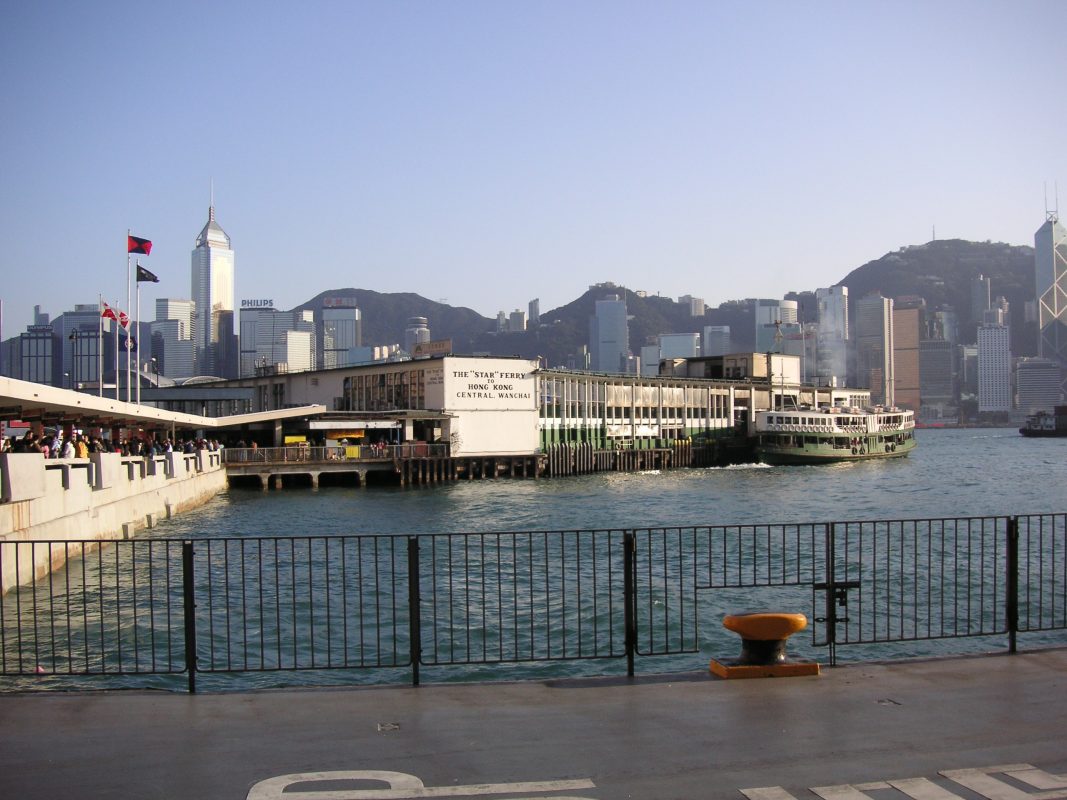 (Source: Wikimedia) The Star Ferry, Tsim Sha Tsui Pier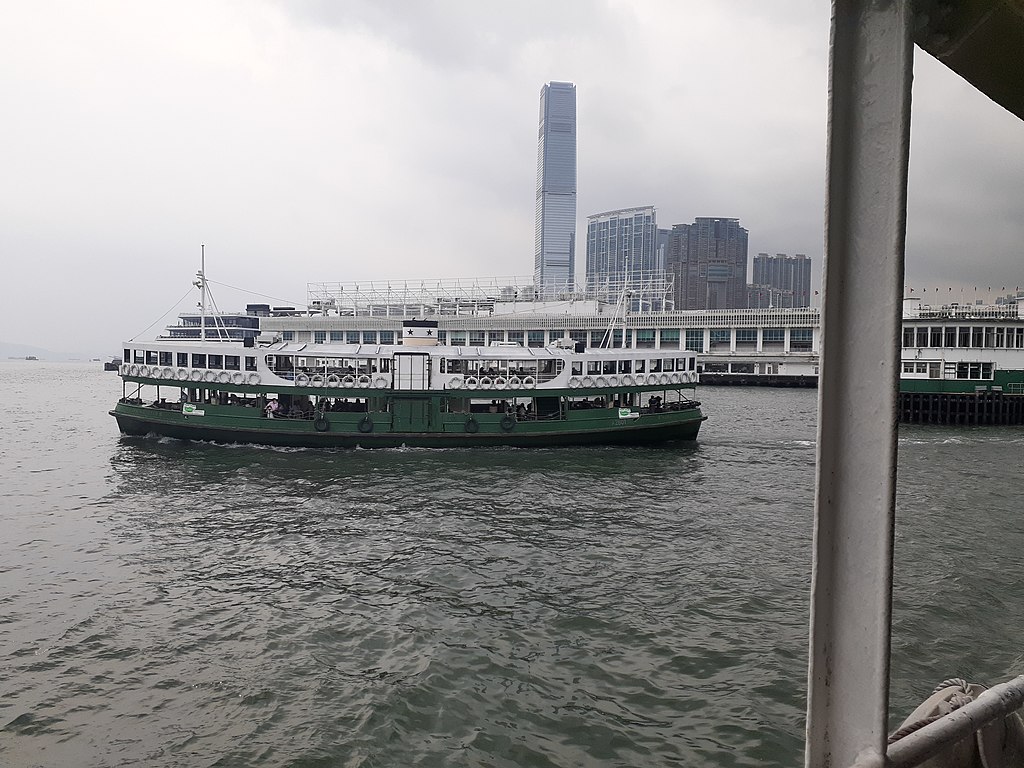 (Source: Wikimedia) The lower deck, as this gets closer to the water, could be more popular among people
The view from the inside of the ferry is the finest kind you can find in the city. Commuters can choose between the lower deck and upper deck. Though the upper deck costs a little higher than the other, they both cost less than 50 cents (HKD) (approx. 6.4 cents (USD)). Lower deck, as this gets closer to the water, could be more popular among people.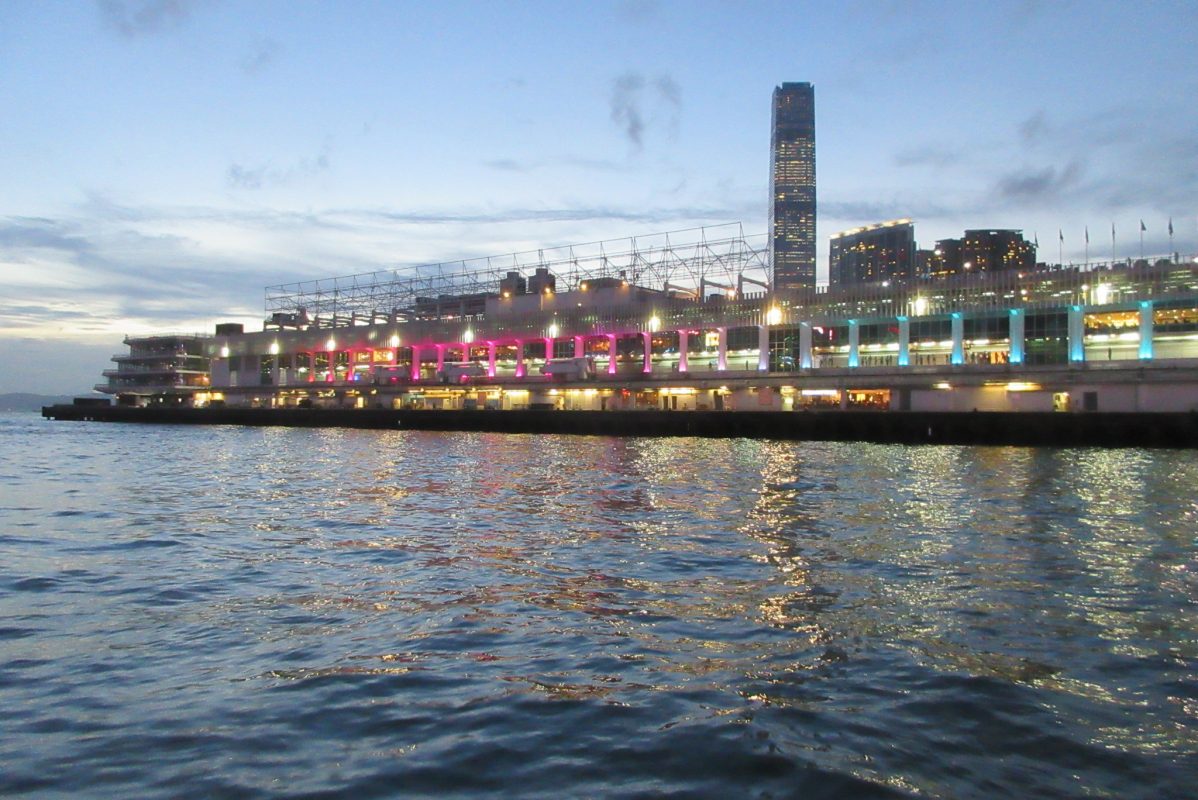 (Source: Wikimedia) Harbour view at dusk
Here are few things you should know about the ferry's design. Throughout the last 70 or 80 years, the Star Ferry is sticking with the same design, though today, the ship size is much bigger. The colour scheme, shape and double-ended design has stayed the same for decades, says Richard Welsey, director of the Hong Kong Maritime Museum. Another interesting feature has to do with the passenger chairs. They are made with ordinary wood, but no ordinary flappable back that can swing back and forth, allowing the passengers to face the front easily. The ferry can be piloted from both ends, and this will save effort to switch direction after each short errand.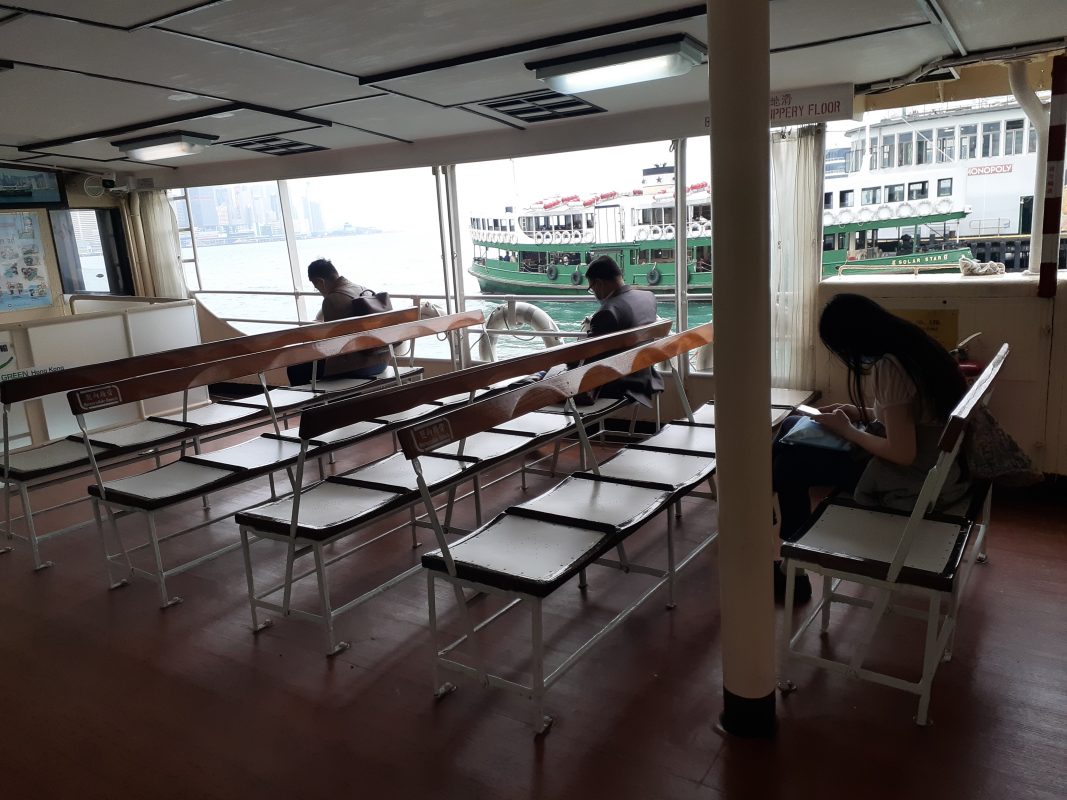 (Source: Wikimedia) Flappable wooden chair in lower deck, this makes it easier for the commuters to face the front
"Every challenge is an opportunity in disguise," lessons we draw from Star Ferry, likewise from Hong Kong, are the best testaments to this saying. Star Ferry has been so much a part of Hong Kong history, it has actually grown with the city; even its role has shifted from a key transport to purely recreational, it is still a must-visit tourist attraction to-date. I remember in my old school days, we used to hop on deck with old school friends, back and forth, too many trips, until the dusk had drawn on us, because the ship fares were (and still are) so affordable then, even for the poor kids like us. This is not exactly excessive at all to say Star Ferry is the emblem of Hong Kong, linking its past to present, linking the west to meet the east, linking every one of us as little stars in one universe.