The thangka, a Tibetan painting using ground mineral pigment on cotton or silk, functions as one of the principal meditational tools in Buddhist practice. A thangka usually depicts a central Buddhist deity or teacher surrounded by associated gods and lineage figures, describes events or myths attributed to important religious teachers, or outlines the blueprint of a particular deity's realm as a mandala.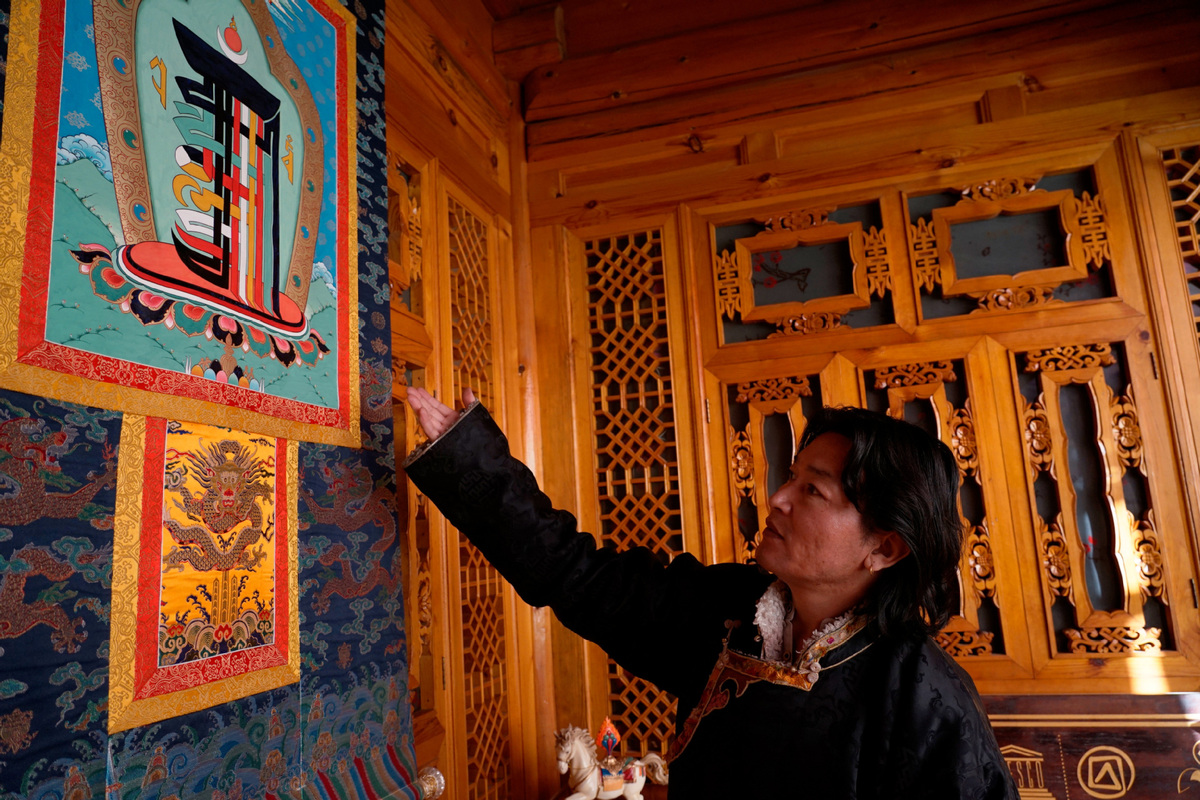 (Image source: China Daily)
The History of the Thangka
Tibetan Buddhist painting developed from widespread traditions of early Buddhist wall paintings which now only survive in a few sites such as the Ajanta Caves in India and the Mogao Caves in China. These cave wall paintings are repositories for early Tibetan paintings on cloth. 
Most thangka paintings were commissions of individuals. These finished commissions were given to a monastery to be retained by those who commissioned them. Surviving thangkas date back to the 11th century. At least twenty paintings are known to be from both the 11th and 12th centuries.
Thangka paintings were created in those regions where Tibetan Buddhism was practiced including Mongolia, Ladakh, Sikkim, Arunachal Pradesh, and parts of Himalayan India.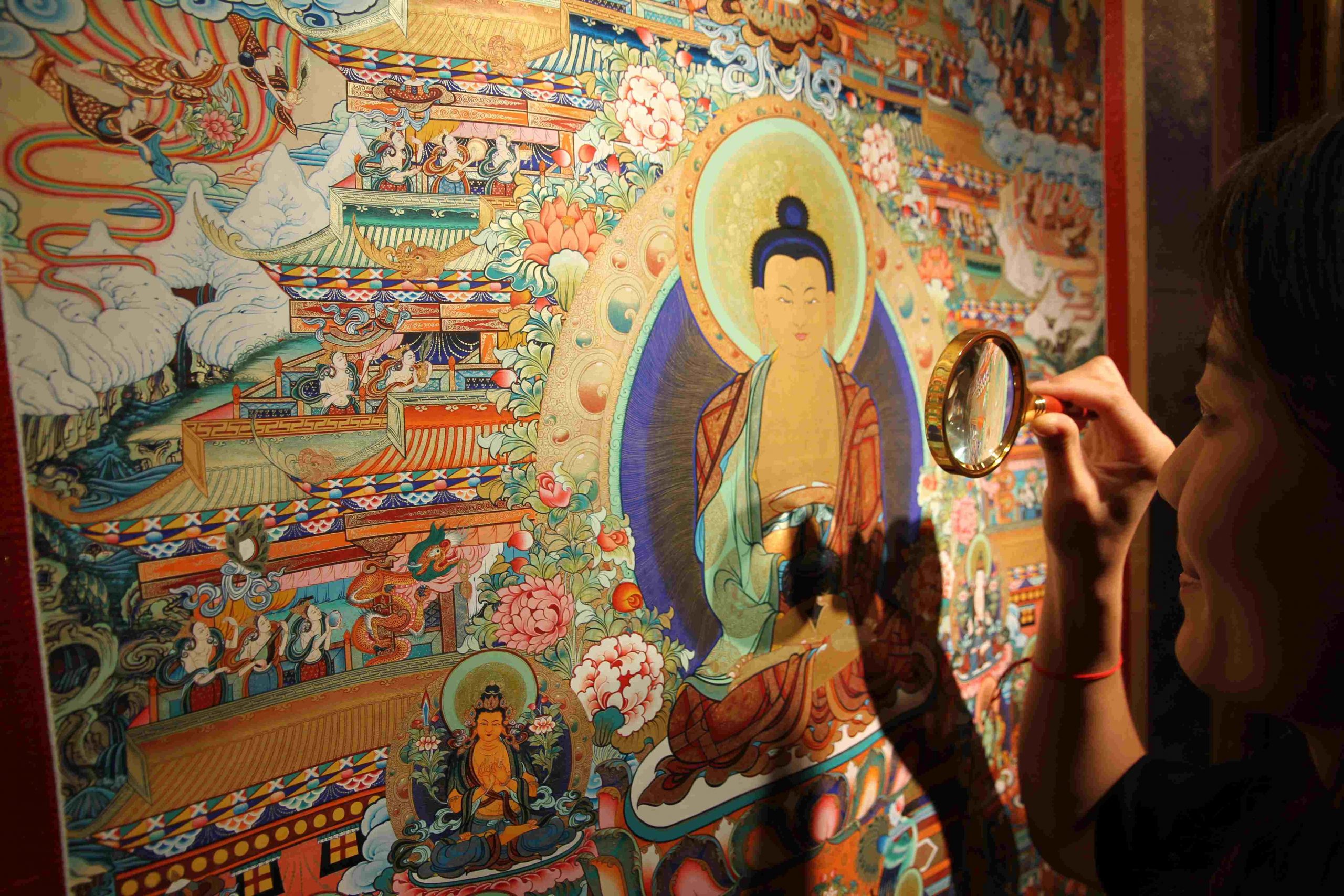 (Image source: China News Service)
Key Symbols of the Thangka
Some of the key religious symbols that can be seen in thangka paintings are lotus flowers, banners, knots, fish, umbrellas, vases, conch shells, and the dharma wheel. 
 The lotus flower, usually pink or light red, symbolizes enlightenment and spiritual purity. The victory banner, which usually appears as a four-colored cylindrical design with a central pole, represents the triumph of Buddha over ignorance. The knot, also known as the "endless knot" or "glorious knot", represents longevity and harmony. 
When fish appear in thangka paintings, they are usually seen in pairs, symbolizing the harmony and peace that arrives as a person approaches enlightenment. A white parasol or umbrella and a conch shell represent the ability of Buddha to triumph over everything. The treasure vase, which is usually gold and never runs dry, represents abundance. The final symbol of the thangka is the dharma wheel which represents integrity, wisdom, and attentiveness.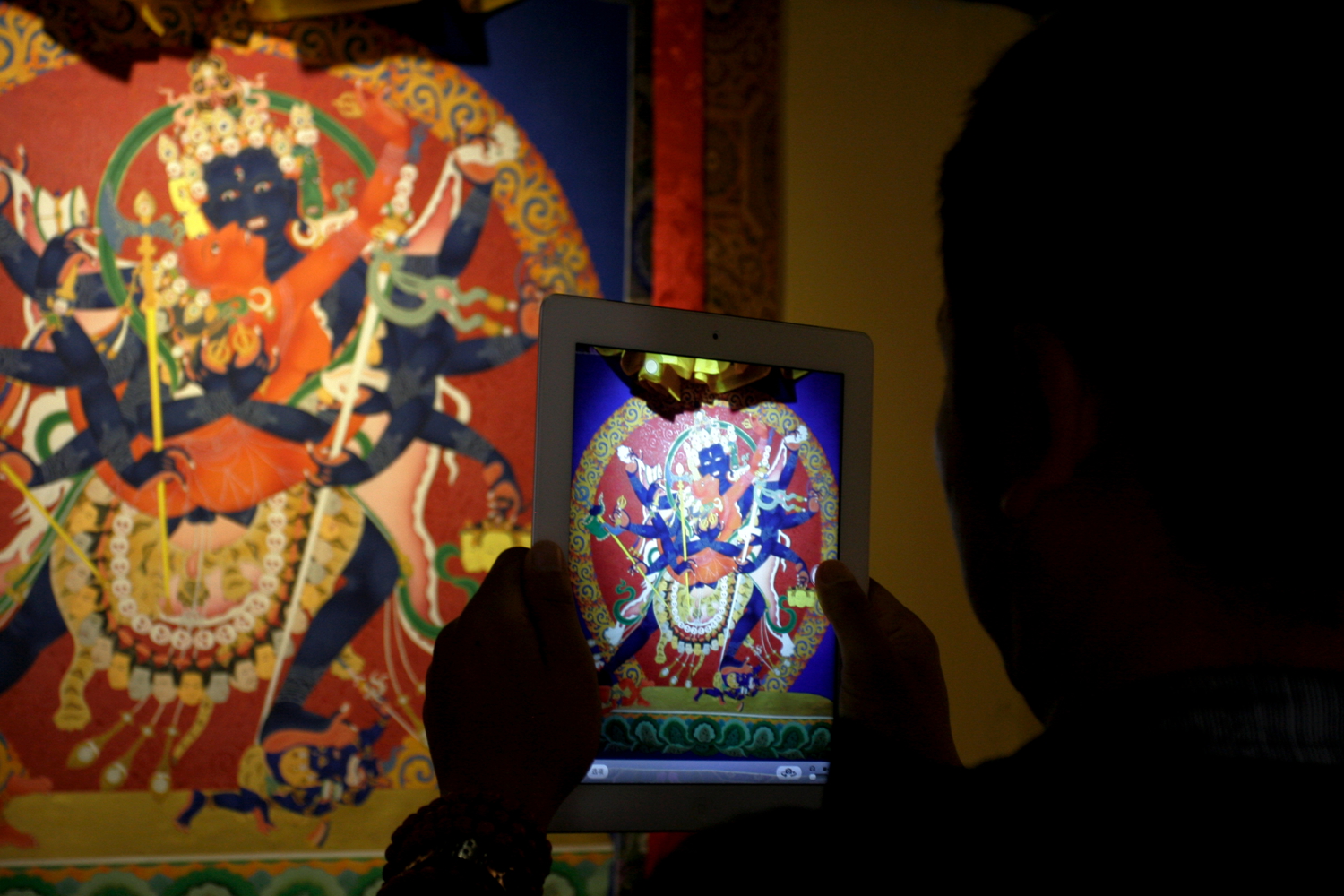 (Image source: China News Service)
The functions of Thangka
Thangka performs several different functions. Images of deities can be used as teaching tools when depicting the life of the Buddha, describing historical events concerning important Lamas, or retelling myths associated with other deities. Devotional images act as the centerpiece during a ritual or ceremony and are often used as mediums through which one can offer prayers or make requests. 
Thangka paintings intended for meditation practice usually take the form of a mandala. A mandala is a circular, symbolic diagram, usually consisting of many concentric circles containing depictions of deities. With a thangka, the onlooker enters this visual space mentally from the lines and outer circles of fire, diamonds, graveyards, and lotus leaves before entering the mandala itself. Those circles represent the burning of ignorance, illumination, cognition, and rebirth respectively. By meditating on this imagery, the viewer is said to enter a state of calm and relaxation while becoming more aware of his or her spiritual connection. 
 Overall, religious art is used as a meditation tool to help bring one further down the path to enlightenment.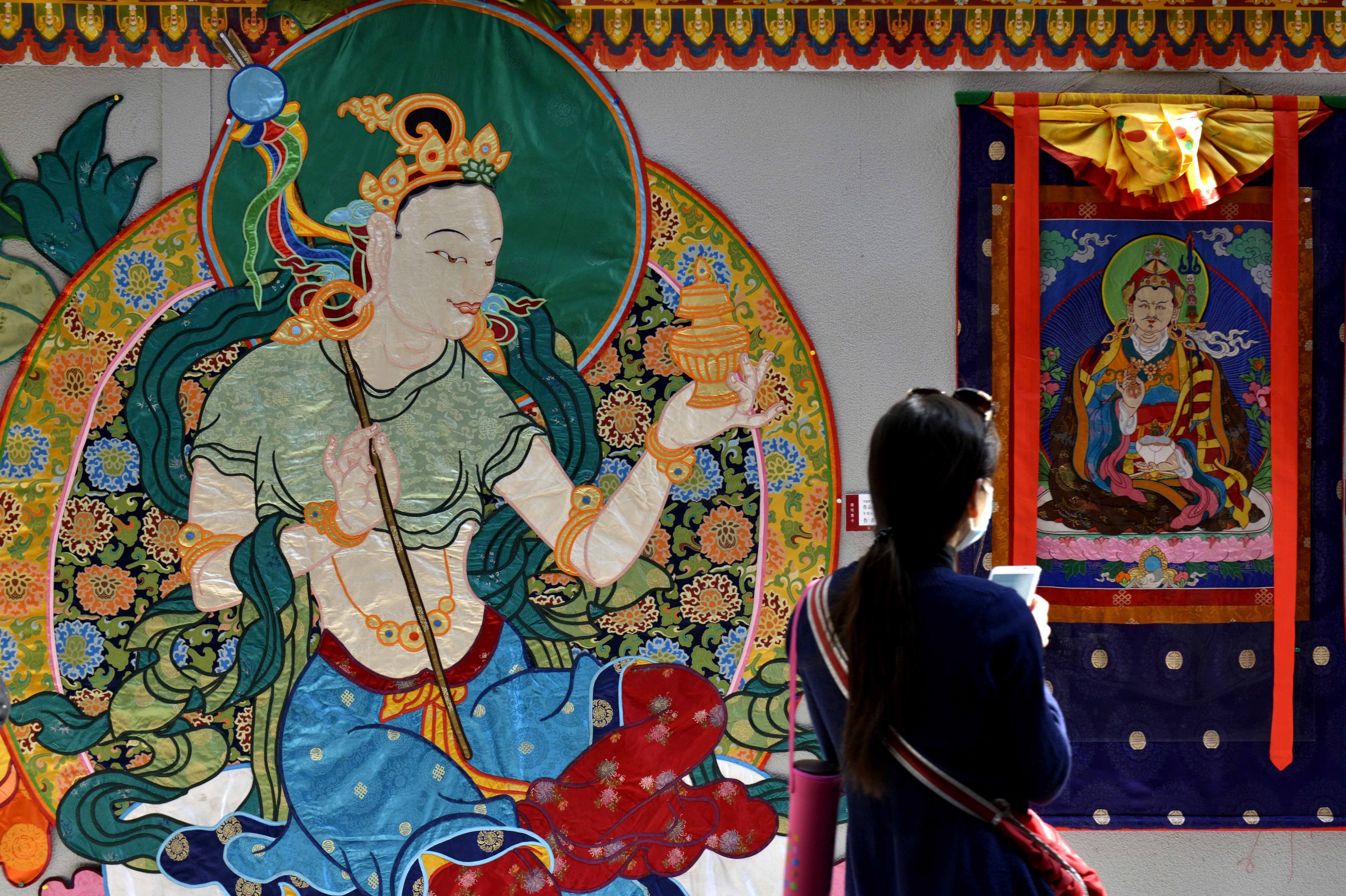 (Image source: China News Service)
The heirs and development of the Thangka
Thangka, once a form of religious painting, has now become a popular choice for home decoration and even collections.
Tongren city in Northwest China's Qinghai province is famous for the local Regong thangka. It is part of the Regong arts that were inscribed on the UNESCO intangible heritage cultural list in 2009. Fifteen years ago, less than 5,000 people were engaged in Regong thangka-related businesses, local statistics showed. Today, nearly 10,000 people in Tongren, or one-ninth of the city's population, work in various trades of Regong arts.
Tongren has seen an increase in thangka sales and practitioners as various local thangka art academies and industrial parks sprung up in recent years. The high value of thangka paintings has also attracted more local farmers and herders to join the trade. In the past three years, the prefecture has built 76 centers for teaching the thangka craft.
Lanka, the founder of a Regong ethnic cultural center, said over the past five years, the center has cultivated over 800 students, whose artworks have been sold to many European countries.
"Thangka paintings are very popular in France. We have cooperated with an art center in Aulnay to exhibit and sell our products regularly", said Lanka, adding that one of the artworks was sold for more than 3 million yuan.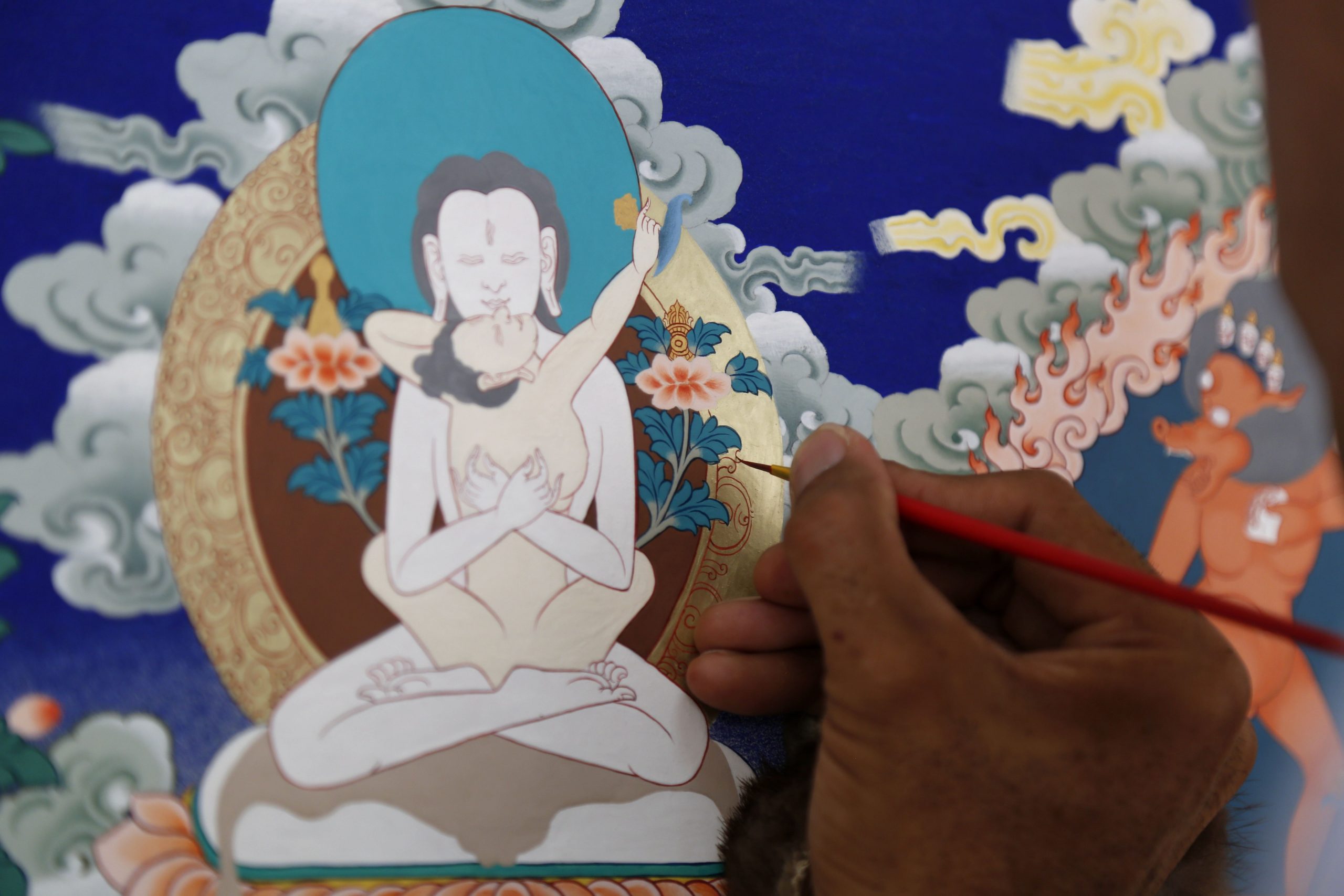 (Image source: China News Service)