On the 7th of October, 2022, Sanyu's Branches, sold for HK$86.6 million (around US$11.1 million) at Sotheby's Modern Art Evening Sale in Hong Kong. Amongst 37 lots offered, Sanyu's work topped the auction, further cementing his status as one of the most sought-after names in the Asian art market.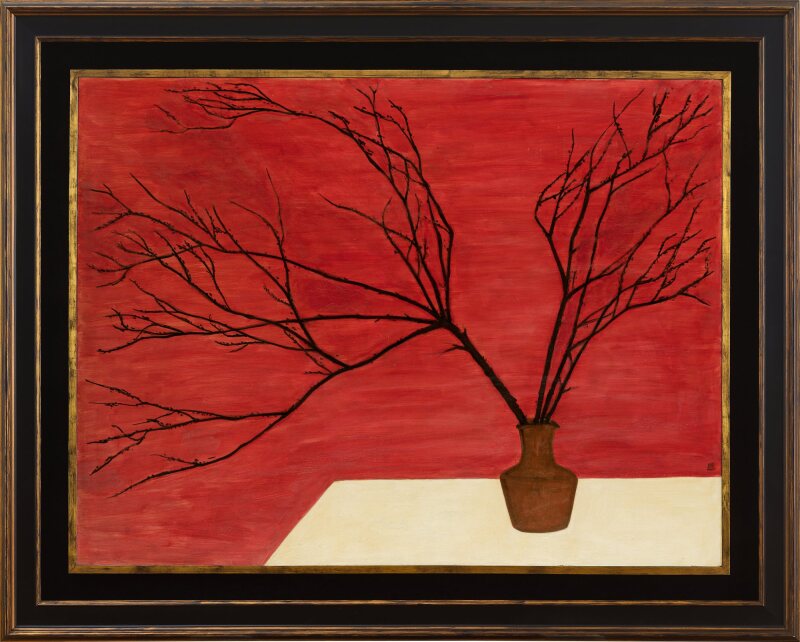 Branches, Sanyu, 1895 – 1966, property from the Collection of the Lévy Family (Source: Sotheby's)
Sanyu, the Chinese-French modernist was one of the first-generation Chinese artists who studied in France. Born into a wealthy family with a silk business in 1895, he was the youngest son. At an early age, he learned to paint from his father, Chang Shufang, and governed calligraphy from a skilled tutor Zhao Xi. To indulge his love for art, Sanyu attended Art College in Shanghai, traveled to Japan in 1919 and 1921, and departed to study art in Paris with the support of his brother Junmin. 
Unlike his compatriots, who returned to their home country after finishing studies, Sanyu remained in Pairs, the eclectic capital of old and new, tradition and modern in the 1920s. This cross-cultural experience profoundly contributed to his unique aesthetics, which involve reinterpreting traditional Chinese art through his favorite subjects — female nudes, floral still-lifes, and animals.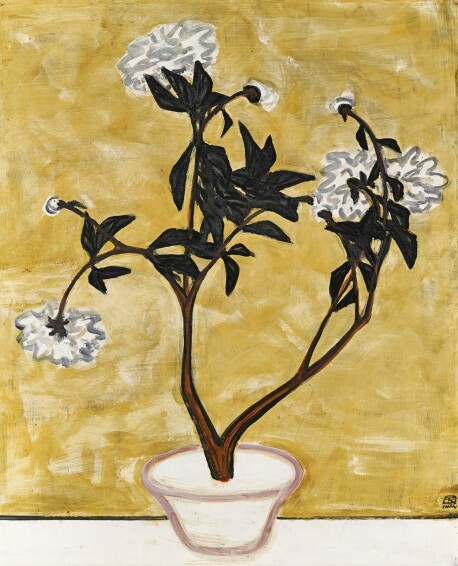 Pot de pivoines, Sanyu, 1940 – 50s (Source: Sotheby's)
At that time, the fashion of most European art communities in Paris was to encounter exotic art traditions for innovations. They were particularly fascinated by Chinese imports such as lacquer cabinets, fine porcelain, and embroidered silks. Similarly, Sanyu assimilated into the local art social circuit by rubbing shoulders with European composers, photographers, and other creative luminaries and gained inspiration from their western modernist practices. 
In recent years, critics often refer to Sanyu as the Chinese Matisse, since both demonstrate a love for saturated color and a continuously energetic line.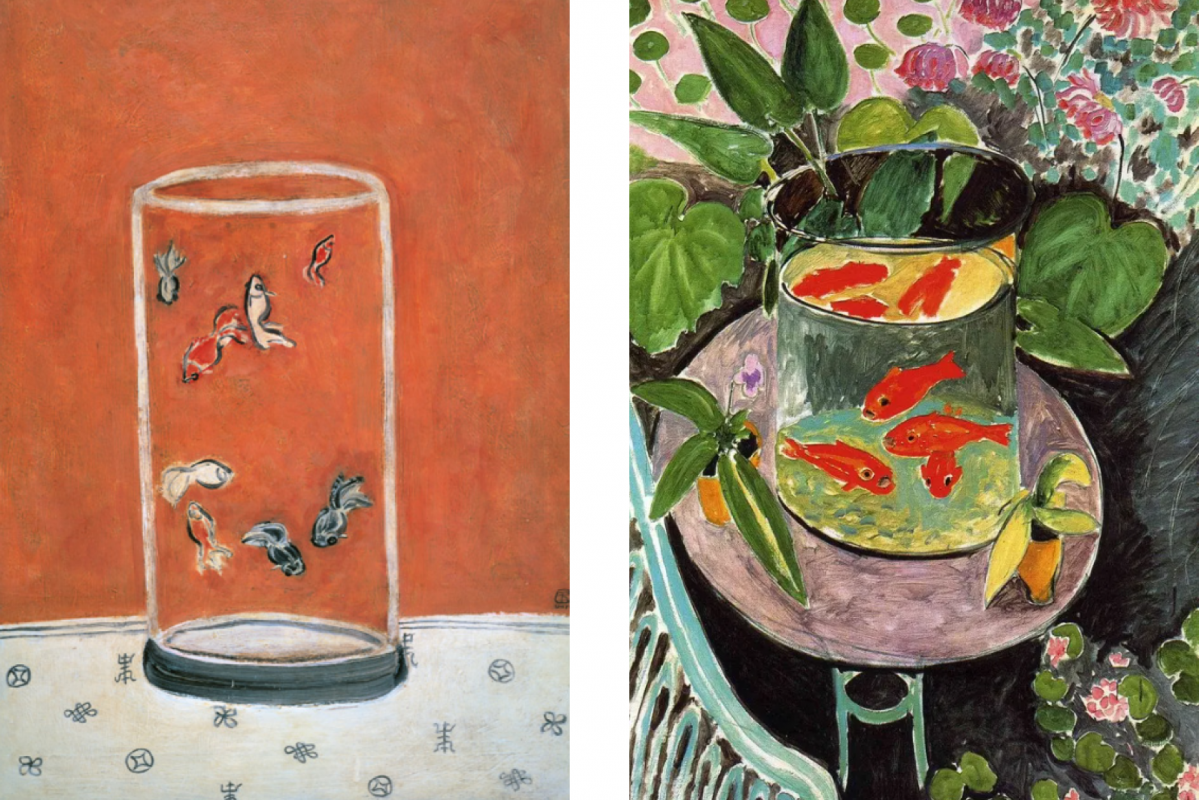 Goldfish, Sanyu, 1930s or 1940s (Source: Sotheby's)                                                         Goldfish, Henri Matisse, 1912 (Source: henrimatisse.org)
The expressive line in Chinese culture is an essential foundation for painting and calligraphy, which Sanyu practiced when he was a young boy. Sanyu used bold colors and long curves in his works depicting the monumental nude, while in his still-life paintings, flowers and stems fan out gracefully over dense slabs of vibrant color.
Both show a specific quality of line and a sense of flatness that defies perspective, where every object, pattern, detail, and swirl is equally intense. The line here is a medium of observation that simplifies and intensifies reality at the same time, as once explained by Sanyu, "as for my work when one looks at it, one knows well enough what it is all about. All that my works declare is simplicity".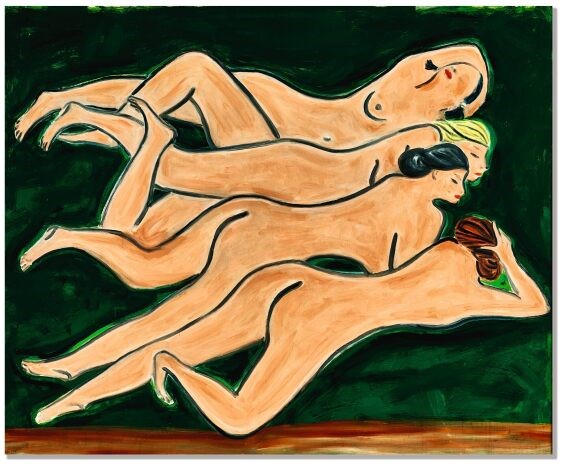 Quatre nus, Sanyu, 1950s (Source: Sotheby's)
Endowing lines with the highest degree of meaning is also one of the guiding principles of the works by Henri Matisse. His curiosity about Chinese culture was far from decorative, the artist sketched Chinese sculptures at the Musée Guimet and regularly frequented the Victoria and Albert Museum for its Chinese, Persian, and Indian art.
Like calligraphers, Matisse had always valued energetic lines. And his philosophy of painting intersected with Chinese concepts of reducing life to its simplest visual form. This idea was made clear by Matisse in 1908, "suppose I want to paint a woman's body. First of all, I imbue it with grace and charm, but I know that I must give something more. I will condense the meaning of this body by seeking its essential lines. The charm will be less apparent at first glance, but it must eventually emerge from the new image, which will have a broader meaning."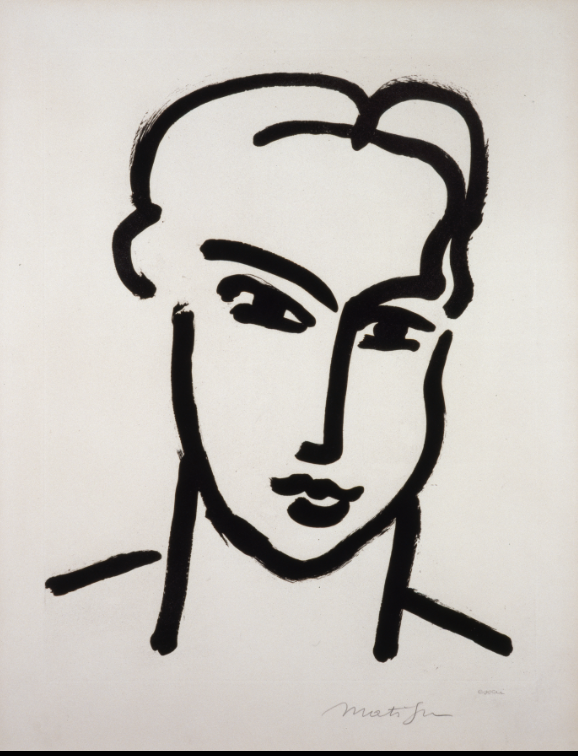 Big Head of Katia, Henri Matisse (Source: China Daily)
Although no evidence suggests Sanyu and Matisse ever met each other in their lifetime, some of their works are spiritually and aesthetically resonated thanks to the precious cultural exchange during wartimes. Being largely neglected by the art market, Sanyu's talents were discovered and exhibited by the Taipei Fine Arts Museum in Taiwan for the first time in the late 1980s.
Since then, Sanyu's paintings have been featured in various art publications and brought to the international audience, so does this beautiful connection between Sanyu and Matisse.